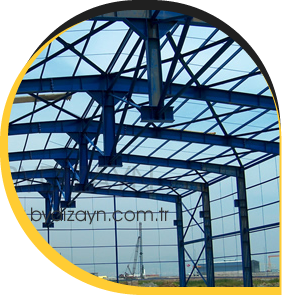 One of the important branches of our company is projecting and producing steel constructions. Turkey's location within earthquake zone leading investors increasingly to prefer steel constructions. The steel constructions are becoming more popular along with the decrease experienced with steel prices during past years. . BY DIZAYN has adopted modern production techniques for steel construction and continued investments since its foundation with the production understanding to meet all kinds of demands of its customers and still continuing investment projects to meet the increasing and changing needs of qualified steel producers.
The advantages of steel constructions can be summarized as follows: the safety for earthquakes, suitability for poor grounds due to its lighter weight, economical recycling by demounting, higher material durability and elasticity, possibility to form wider spaces, architectural specificity, faster production and mounting process, decrease of infrastructure costs, etc…
Projecting, production and mounting of factory buildings, Industrial facilities, Roofing, Stores and warehouses, additional mezzanines for existing building, Platforms, reinforcement of concrete buildings, Auto parking facilities, elevator carriers etc. are conducted by us to provide them to the service of you, our esteemed customers.